Unified Martial Arts is the local MMA gym in my area. I would often go to their open mat session to get some additional training in on weekends. Mike Biddle is the head coach there. He asked me if I was interested in fighting a grappling match as the first fight on the card for the night at Who's Next Combat Championship (WNCC) 10. I accepted.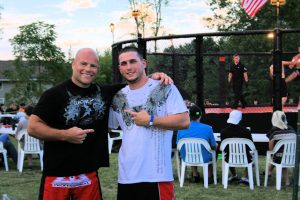 The match was no-gi grappling. If no one tapped or was choked out then the fight would be a draw at the end of regulation time.
It was a cool experience. I had to pick my "walk out" music. They announce my name and listed my bio as I walked to the cage. It's a lot different than a Brazilian Jiu-Jitsu tournament in that you just have one fight that day and then it's over. It is also different in that all eyes are on you because there are not 7 other matches going on at the same time. I had considered doing MMA a couple of times, but I know that it is a short career and at my age it probably didn't pay to start getting punched in the head on a weekly basis.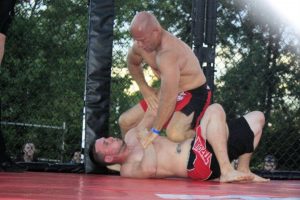 I had an arm triangle on my opponent at one point. It was in fairly tight, but he would not tap and I couldn't get it tight enough to put him to sleep. So the match ended and we both got our hands raised for the draw.