Having been a runner up in the white belt Masters 2 division two years earlier, I was excited to compete at the Masters Worlds at blue belt in the Masters 4 division.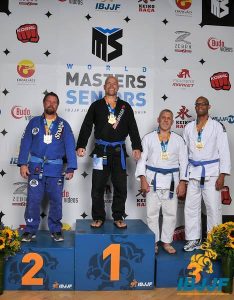 I went 3-0 in a six man bracket for heavyweight blue belt with one submission. It was a great feeling! I remember my coach, Scott Huston, walking with me in the hallway after the match. He asked me if I was going to do the open division. I said, "sure, might as well." He answered back rather sternly saying that I should go for it because I was on a roll. I had the goal of becoming a World champion and with that accomplished,, I felt no pressure in the open division. If I won that as well, great! Icing on the cake!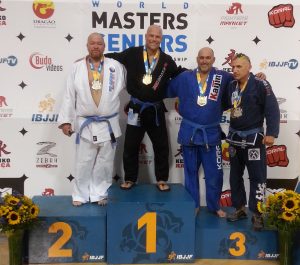 14 men signed up for the open division. I went 4-0 with one submission to take double gold for the day at the Masters Worlds! What a feeling!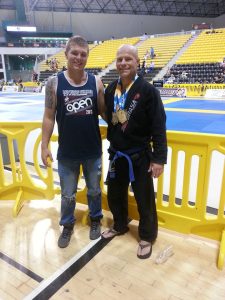 The real icing on the cake was having my oldest son, Luke, with me. He and I had spent years together where I was in his corner and he was wrestling at tournaments. It was a great feeling to have him in my corner to share this experience with me!