Having not competed in over a year, I thought it would be a good idea to get in a warm-up tournament prior to the IBJJF Masters Worlds. Finally, we had a tournament here in the state. Fuji BJJ was able to put on a tournament in Wisconsin Dells.
I signed up for the Brown Belt Executive division in hopes of getting a few matches. Only one other brown belt signed up, but thankfully Fuji BJJ does a "best of three" brackets when there are only two competitors.
The first match went into overtime. Fuji BJJ settles ties with a sudden victory format in a one-minute overtime. I countered my opponents throw and passed his guard for the win.
I controlled the second match and won 4-0. I stuck around until the end of the tournament to coach one of my students in no-gi. I had signed up for no-gi matches as well, but the opponent left before our scheduled match.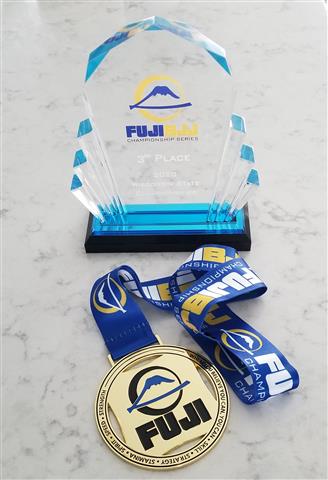 My Jiu-Jitsu school, Silverback BJJ, is affiliated with Wisconsin 360 Brazilian Jiu-Jitsu. The main school is 360 BJJ, which is run by my coach, 3rd degree black belt, Scott Huston. Two other affiliate schools competed in this tournament. They are Green Bay Jiu-Jitsu and Elevation Jiu-Jitsu. Our teams accumulated enough wins to take 3rd place in the overall "association" competition. So, congrats to Wisconsin 360 Jiu-Jitsu!